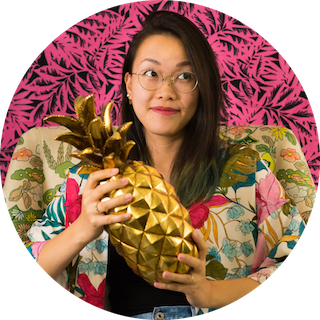 Hi, I'm Diana. Have you eaten yet?
I like creating things & I'm always thinking about what to eat next. 😋 Made in China, raised on the East Coast, now happily rooted in Los Angeles. 🌱
I wrote a cookbook about the food of my heritage: Jia! The Food of Swatow and the Teochew Diaspora. Partway through writing it, I started Gwan-im to make modern chinoiserie to photograph in cookbook photos. Dingding Hu, Rose Wong, and I designed plates that honor our Asian-American heritage, and I learned a lot about California's non-native flora along the way. (You can get your own digital copy of Jia! or a set of Gwan-im plates at gwanim.com.)
Three Gems Tea is my latest adventure. My co-founder Ayumi Takahashi and I are making tea breaks good, simple, and fun by sourcing delicious loose leaf teas from family farms and designing teaware with a pop to brighten your table.
In a previous life, I worked as a public health researcher & consultant. I studied Economics & Sustainable Development at Columbia and received my MPH in Health Policy & Management from the Harvard TH Chan School of Public Health. I still have a passion for policy & public health, even if it's no longer my day-to-day. 🤓
(While you're here: Black Lives Matter! ❤️ Wear a mask! 😷 Keep your distance from others! 🙅🏻‍♀️ Wash your hands! 🧼 Thank you for doing your part! 🙏)
I love food, community, and am learning how to keep a garden alive (follow sporadic updates of this educational journey in my IG stories).
I'm always interested in collaborating! Get in touch here.
Some mentions: